Synergy Automotive is further accelerating its growth strategy with six new appointments to meet increasing demand for its services. The business, one of the UK's...
The National Agri-Food Innovation Campus (NAFIC), located at Sand Hutton, York, has welcomed two new tenants as part of the Government's Agri-Tech strategy. The strategy...
Renew, the Leeds-headquartered engineering services group, has posted record interim results for the six months ended 31 March 2017. With a strong order book and...
Moirae, a full service creative agency, based in Doncaster, is celebrating achieving official Google partner status. The company, which recently won an international award for...
A quarter of British office workers say they would consider moving jobs – or have already moved – due to a lack of mobile...
Coca-Cola European Partners (CCEP) has opened a solar farm in Wakefield to support production of its flagship beverage at Europe's largest soft drinks factory. The...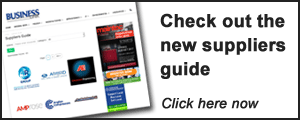 Apprentices from Leeds College of Building scooped six top awards at this year's Building Engineering Services Association (BESA) Yorkshire Region Awards. The Awards recognise apprentices...