Education and business leaders showed a shared understanding of how they need to work together to help young people raise their career aspirations and...
To meet growing demand from retailers, Chippindale Foods has stepped up production at its Yorkshire packing centre by a million eggs a week. The family...
Chris Wilson, a corporate partner at hlw Keeble Hawson, retires this week after a successful career which has seen the legal sector undergo seismic...
JCT600 Vehicle Leasing Solutions (VLS) has developed a driver centric app for use by drivers in its customers' fleets. Known as 'driveVLS', the app brings...
A final rallying call has been issued for graduates, tech professionals and job seekers wanting to progress in the region's burgeoning digital sector to...
Team Humber Marine Alliance's Offshore Wind Connections conference and exhibition has added DONG Energy as its diamond sponsor. OWC17 is gaining support from around the...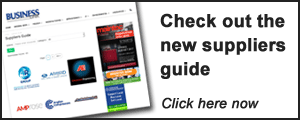 Huddersfield-based brand agency, The Engine Room, is set to highlight the power of great design in the North, in a variety of upcoming seminars...